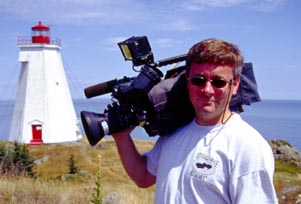 NEW! Check out Jonathan's Emmy Award-winning public television series Jonathan Bird's Blue World!
Jonathan Bird is a professional Emmy Award-winning underwater cinematographer with experience in all aspects of underwater wildlife cinematography and still photography. He has shot and produced films for television which have aired all over the world. A frequent contributor to several diving magazines, and author of several books, Jonathan is widely published on marine life subjects and a member of the Wyland Ocean Artists Society. As president of the non-profit environmental organization Oceanic Research Group, Inc., he produces educational films about marine life for use in schools and libraries, as well as satellite learning. He is a former professor in the broadcasting department at New England Institute of Art and Communications, in Boston, Massachusetts. This site has hundreds of underwater images to browse, information on Jonathan's films, underwater stock video, and freelance work, as well as information about joining Jonathan on dive expeditions to exciting dive destinations around the world!
ADDITIONAL FUN LINKS
Underwater photo/video tips page
Red Digital Cinema Behind the Scenes
So you want to be a pro photographer?