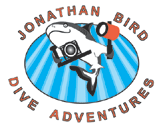 Jonathan Bird, Emmy Award-winning underwater cinematographer, is leading a small number of underwater photography courses and photo-safaris to exciting diving destinations around the world. These trips all have one thing in common: exceptional diving with incredible photo opportunities and small groups of people where everyone can get great pictures and video. Even better, they are reasonably priced!
Updated 10/30/16
LIVE-ABOARD DIVE TRIPS
Great White Sharks! SEPT 4-8, 2017
Dive with Great White sharks at Guadalupe Island, Mexico aboard the Sea Escape! $2,795.00 and only 2 spots remain.
LAND-BASED DIVE TRIPS
Dive Eastport Maine! AUGUST 2017 TBA
Dive the area of greatest critter density in the North Atlantic and meet Gene the Wolffish! Summer 2016 dates to be announced soon.
The Ultimate Underwater Video Course TBA
This course runs every other year. Only 4 spots are available for the course. Currently not scheduled.
Due to the huge amount of time required by my public TV series Jonathan Bird's Blue World, I only have a few trips planned.
ABOUT THE TRIPS, ETC.
Basic Info on Jonathan's trips. A FAQ page.
Join Our Mailing List
Because we do zero advertising, you either have to keep checking back on this site or get on our e-mailing list if you want to be the first to know about new trips. New trips are being scheduled frequently and they often sell out in a week or less. Don't miss another trip...get on the mailing list!
Trip Reports
Read about previous trips and learn what you have been missing (not that we want to make you jealous or anything....)
Photo/Video Tips
Check out the underwater photo and video tips page with information of interest to underwater photographers and videographers.