TRIP REPORT
Trip Report
Dominica, January, 2003
Well, another incredible trip to Dominica has left me somewhat sad as I sit here on the plane flying home. Leaving my favorite island is always a bit depressing, especially after an exciting fun-filled week like the one we just had. (Thank goodness we're going back next year!)
This year, our Dominica group was the biggest ever. Apparently the secret is getting out! We met up with most of our group in San Juan except for David and Karen who were lucky enough to fly in a day early. The flight arrived on Dominica's short runway at Melville Hall airport right on time. The steep approach and breezy crosswinds made a few of the passengers hold their breath, but those of us who have experienced the landing before just grinned and enjoyed the ride!
Next, we gathered our gear, and piled into the big bus that the hotel had sent for us. It turned out that the company that runs the bus would also provide some of our topside daytrips. More about that later. We met Lambert, our enthusiastic bus-driving guide who told us about the local villages, foods, trees and wildlife as we made our way from the airport located on the only flat spot of Dominica (in the northeast) to the hotel on the southwest part of the island. Most of the hotels and all the diving happens on the west (Caribbean) side of Dominica, where the mountains provide shelter from the trade winds. Therefore, the Caribbean side is nearly always flat calm. The trip from the airport takes about 90 minutes but it's non-stop fun because of the incredible views and thrilling twisty roads through the jungles and up and down the mountainsides.
We arrived at the delightful Castle Comfort Inn, owned by Derek and Ginette Perryman. By the time our bus arrived, the van with the luggage had been unloaded. All the gear was already distributed by the staff to our rooms. All we had to do was grab a key, drink a rum punch and settle in. Our first night was spent getting to know each other. Many of the guests on this trip were veterans of previous Dominica trips. Al and Wendy were on their fourth trip. Bill was on his third, Jacki, Barry and Angela were on their second. Everyone else was a Dominica virgin! Boy were they in for a surprise! Boy was I happy to see BIG DAVE, our friend from Dive Castaways. He was our divemaster for the week and kept us all laughing with his antics and stories.
Our first meal was delicious and the service was enthusiastic. It's obvious that the staff make the extra effort to make everyone feel welcome. By the end of one day, everyone knew our names. Derek and Ginette frequently asked if we needed anything and went out of their way to be sure everyone was having a good time.
The next morning we awoke to a massive breakfast with eggs, toast, french toast, world-famous banana pancakes, ham, bacon….the list goes on. I stuffed myself and made a mental note: eat less tomorrow! Derek and Ginette also own the island's best known and most professionally run dive operation, Dive Dominica. It's located right on the property. Only 100 feet from the restaurant, we board the boats. We loaded our dive gear on the boats, breaking our group into two smaller groups so we wouldn't overpopulate the dive sites. Derek set our group up with two private boats for the week, using his other two boats for the few divers he took out from a couple of other hotels. We began a system of racing our two boats to the dive sites and bantering over whose boat was "number one" (obviously, whichever one I was on….heh heh heh…what do you expect, this is my trip report!)
Being closer to the premier dive sites in the south, Castle Comfort is only about a 15 minute boat ride from dozens of the best sites on Dominica. Our boat went to Witch's Point and Soufriere Pinnacles the first day. The coral looked incredibly healthy, as always. The first dive is generally planned to be an easy one so everyone can get their gear straightened out, the weight right and get used to diving again. (Not everyone gets to dive as much as me!) Nonetheless, the dive provided tons of great photo subjects. The water was a perfect 78 degrees. It didn't hurt that the weather back in Boston was the coldest of the winter. Ann was doing her checkout dives after taking a course in Massachusetts right before the trips, so she was pretty excited to finish up and "join the club!"
The first day, nearly everyone saw a frogfish or two, something that I had promised would be easy to find. In fact, the only person who didn't see one was me! That's okay, because I went through all my film on many neat critters. Dominica has one of the most diverse collections of invertebrates in the Caribbean, so finding stuff is easy. I was working with a new camera and housing, so I did my first test roll. Everything seemed good! With a 105mm macro lens, I concentrated on really small stuff like blennies and other little fishes.
That afternoon, we were scheduled on a whale watch. We boarded the boat and left the dock at 2:00. At 2:10 we spotted our first Sperm Whales. For about three hours we patrolled the coast and watched over a dozen whales spyhopping, fluking, and logging (logging is when Sperm whales sleep at the surface, floating like logs.)
That night after another huge dinner, we were too pooped to manage a night dive off the dock. Instead we hit the hot tub and had a great time soaking in the tropical evening while everyone at home was freezing their butts off. Since Castle Comfort has a broadband internet connection with a computer for the guests, we delighted in checking the weather back home and noting that we picked the coldest week of the winter to get away. Are we good or what?
Monday we did more diving in the south, around Scott's Head. Our boat did Danglebend's Pinnacles, my favorite Dominica dive site. When I dropped into the water, I looked down and immediately saw a huge barrel sponge spawning! I couldn't believe my luck--not only was this the first time I have seen a barrel sponge spawning, but I actually had the right camera and lens. What a rare coincidence for me! I dumped my BC and streaked to the sponge as I quickly moved the strobes into position and turned on the camera. Again I was working with a brand new housing (a different one from yesterday!) and the pressure was on to get the shot even though I was unfamiliar with the controls. It slowed me down a bit, but the sponge continued to spawn for about 20 minutes. I used half of my roll and by then the other divers were showing up. I pointed out the sponge (nobody seemed as excited as I was...) and set out to find some more wide angle subjects.
I went around the back side of one of the pinnacles, looking for a nice section of reef for a colorful shot. I dropped down to a spot I remembered being nice from the last trip and staring me back in the face was a huge Hawksbill turtle, resting in an overhang. I got a few shots then swam away before he got really annoyed. The rest of the group found him about ten minutes later and everyone got a chance to get close pictures before he decided to find someplace quieter!
For the second dive, we went to Champagne. This is a dive site where the gasses created by volcanic activity bubble out through the bottom (like champagne bubbles, presumably). In the shallows where the bubbles occur, hot fresh water comes out too, so there is not much life to see. But out a little deeper, it's a normal dive site with coral, sand, and critters. I have to admit, in all the times I have been to Dominica, I had never dove Champagne, writing it off as a snorkeling spot for cruise ship passengers and newbie divers. I was wrong. Champagne offered wonderful photo ops with the bubbles in the shallows and the largest school of Flying Gurnards I have ever seen (over 50 fish in one group). I spent an entire roll of film shooting Christine snorkeling in the bubbles, then grabbed my other camera and chased the flying gurnards for half an hour, eventually finishing that roll too.
Tuesday afternoon we all piled into the bus and took a ride out to Titou Gorge. This easy-access excursion is always a big hit. Basically, it's a river that comes out the side of a mountain through a narrow gorge with a waterfall back inside. We walked about ten minutes to the gorge from the road and hopped into the water. Then we swam upstream, into the gorge, surrounded by rainforest, finally reaching the waterfall. Our guide Aaron showed us how to climb the waterfall and then jump off the side of the gorge into the pool at the bottom. Great fun!! But we couldn't stay too long because we were heading out to Trafalgar Falls next.
Trafalgar Falls are actually two different falls next to each other. The larger, called the Father Falls is a very strenuous climb over slippery boulders several hundred feet above the smaller falls, called the Mother Falls. The Mother Falls is by no means small, with a vertical drop of about 100 feet, but the Father Falls is HUGE. I wanted to climb to the Father Falls with my medium format camera to get a good shot, and several people made the mistake of following me. Without a guide, we climbed the rocks the hard way. I knew it was the wrong way (having climbed it with a guide a few years ago) but our guide was busy helping others to the Mother Falls. We eventually made it up there and our guide showed up at last to help us with the final bit of the climb. Al, Anna, George, Adriana and I were the only ones that were stupid enough to climb up there (without a guide!), but we got some great pictures and had a well-deserved swim in the large pool at the top. The advantage of climbing up there is that you almost always have the place to yourself!
Aaron showed us the easier way down and we got back to the bus just after sunset for the hour-long drive back to the hotel. Everything in Dominica is pretty close by, but there is no way to get there in a straight line. Ten miles "as the crow flies" can take well over an hour to drive on Dominica.
As if that weren't enough fun for one day, that night, we did a night dive back at Champagne. I "jumped ship" to the other boat to see what was happening over there with them. The huge basket stars (for which Dominica is famous) came out, as did all kinds of lobsters and crabs. I searched for that school of flying gurnards, figuring that at night they would be easier to approach than during the day. Finally, I found three of them. Not sure where the rest were hiding, but the three were quite cooperate and I was able to get much better shots at night when they were a little out of it!
On Wednesday our boat dove at Scott's Head Pinnacles, actually around the corner of the southernmost point of the island. You can only dive this part of the island when there is little wind, or the wind is out of the north. (The other boat was diving in the same general area as us…but I don't know which sites.) This site is great for wide angle because it has two swim throughs. The larger one has a massive school of soldierfish inside and they posed for pictures. I waited for everyone else to swim through. Once they had their fun and moved on to the rest of the reef, I spent the whole dive just working different photo angles inside the swim through. (It's no wonder why nobody ever wants to be my dive buddy...)
That afternoon, back at the hotel, I set up a macro rig and did a shore dive right off the dock behind the hotel. Derek told me not to underestimate their humble "house reef". Dive Dominica encourages guests to dive off the dock 24/7. Literally, anytime of the day or night, you can grab a tank, jump off the dock and explore. I LIKE that. In particular, I wanted to see if I could find the batfish that lived out there, not too far from one of the moorings I was told. Batfish are incredibly rare and well-camouflaged fish, a prized photo subject by any photographer's standards. I had never seen one. Nobody else in the group wanted to join me so I went alone.
I grabbed my gear, asked a few of the divemasters where to find the fish, and hopped off the end of the dock. The bottom near the dock consists of large rocks. As you swim out, it turns to patch reef. By about 50 feet off the shore, the bottom is mostly sand with little coral patches here and there. Derek was right. Macro wonderland! Morays, large section of garden eels, Flying Gurnards, electric skates, gobies, anemones, shrimp, crinoids and much more made wonderful subjects. I spent about ten minutes following a pair of flying gurnards. One looked romantically interested in the other…but the feeling did not seem to be reciprocated.
Finally, I got down to business and started looking for the batfish. This is a well-camouflaged fish, but I had seen plenty of pictures, so I knew what to look for. After 38 minutes of hunting around, I found it! I got a few shots, and headed off to find some more critters. A few days later I dove the site again with David and Karen. David found the fish only 10 feet from where it was two days earlier. I'm not sure how long the fish has been around, but it doesn't seem to be going anywhere.
On Wednesday night we did another night dive. This time we went to a spot that they had never done at night (Soufriere Pinnacles). As usual, I found all the really cool stuff after I was out of film, including a large orange nudibranch and a baby octopus that was smaller than my hand. It hopped right into my hand too, curious about me--and well aware that I was out of film.
The next day, after a pair of great dives in the morning, most of the group decided to join Mervin the "singing ninja" on a trip to Victoria Falls. I was very excited because I hadn't been to Victoria Falls yet. I love waterfalls so I try to visit a new one each trip. Last trip we hiked to Sari Sari Falls. While it was very beautiful and big, the hike was pretty long. I had been told that the hike to Victoria was about 45 minutes and not too strenuous. Needless to say, in Dominica everything is estimated very optimistically. We decided that the exchange rate on miles in Dominica is the same as the exchange on money. One Dominica mile equals 2.6 regular miles. Everything is further, more difficult and takes longer than people say! We started the hike after a one hour drive to the trail. Thirty seconds into the hike, the sky opened up and down poured upon us. (It IS after all a rainforest…they get 300 inches of rain a year). TWO HOURS later, we reached the falls. Man, what a sight! It was beautiful. Victoria Falls comes from the boiling lake, so the water is full of minerals. Rather than clear like most of the rivers on Dominica, this one is white with minerals. It has the reputation for having healing properties and it's supposed to be good for your skin. We got lots of pictures and took our traditional celebratory swim. (Al, Wendy, Christine and I started a tradition on our first trip to Dominica that we would swim in all the waterfalls we hiked…no exceptions.)
We couldn't stay too long at the falls because we had to hike out before dark. It only took 90 minutes to get back. We never would have found the falls or made it without our guides. Guides are essential for hiking Dominica. I've never been much into hiking but man, this is one island where even I love to hike. Nothing like a hike to a deserted waterfall in the rainforest! It's quite a feeling of accomplishment when you finally get there, see the falls, get some pictures and make it back to tell the tale. I like the fact that you have to earn the right to see the falls by hiking. No Disney world here. No quick ride on a tram or an ATV or something. You gotta walk, cross the stream several times, climb boulders, get really dirty and soaking wet and tired! What a way for a group to become friends! On the way home, we found out why Mervin is a singing ninja. He writes songs and sings. He started out by singing a few of his songs as he drove (making everyone nervous because he uses a lot of hand gestures too!) and then he got the rest of us singing too. It was a little weird at first but ended up being pretty darned funny. We sounded pretty good, actually!
Friday was planned as a non-diving day since we were flying out the next morning. Some people in the group went diving anyway, since they could dive in the morning and still have 24 hours before flying. Christine and I had a meeting in Roseau to attend. Andrew, Anna, Steve and "K" decided that they had so much fun hiking to Victoria that they would undertake the hike all the way to the boiling lake. This is a hike I keep saying I am going to do, but I still haven't. (Update: I did it in April 2003! What an amazing hike!) They made it back alive with tales of the Valley of Desolation and the boiling lake itself, one of only two actual boiling lakes in the world. Christine, George, Bill and I went on a shorter hike to the Sulpher Springs where we saw vents belching hot gasses and steam. Whew, and it does stink! Water heated by the springs flows in a stream down the mountain. The rocks in the stream bed are all red from the minerals in the water . It flows to a man-made pool where people can soak in the reputedly healing powers of the water. Even if you don't buy the healing powers thing, it's an all-natural hot tub…with rusty-looking water.
That night we packed up for the ride home. The next morning we boarded the bus again, for our ride back to the airport and home. But the adventure didn't end there. The flight had schedule issues and arrived late. Our entire group missed their connections in San Juan, so American Airlines put us all up at the Park Plaza for the night. We planned on one more night of having fun, but everyone was pretty tired from all those adventures, so we had dinner and went to bed early. We arrived home a day late, but we all wished we could have stayed in Dominica another week. Oh well there is always next year!
-Jonathan Bird
Check out Jonathan's book about Dominica! Dominica: Land of Water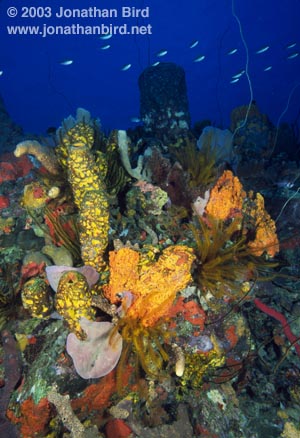 An incredible Dominica reef!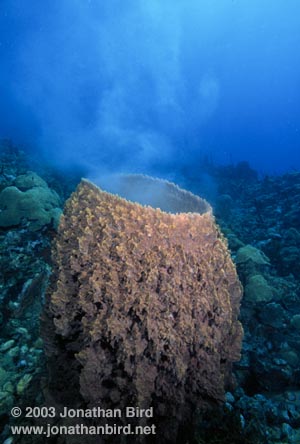 Sponge sex...or maybe it's on fire!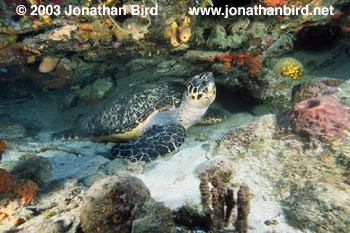 A Hawksbill Turtle resting in an overhang at Danglebend's Pinnacles.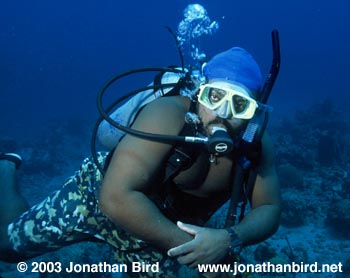 BIG DAVE the divemaster wearing his finest wetsuit and camo shorts.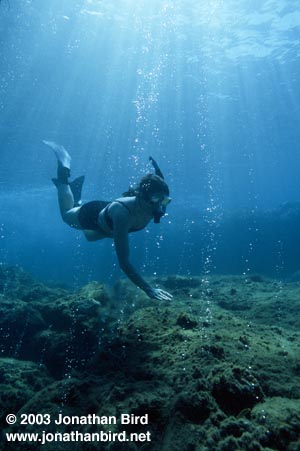 Christine is feeling the warm water flowing from the vents at "Champagne."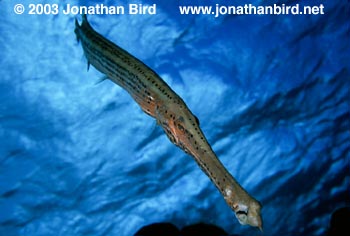 A trumpetfish posed for me nose down into the camera.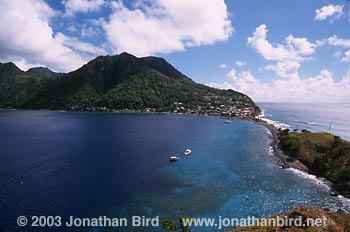 A gorgeous look across Soufriere Crater at Dominica from Scott's Head Point.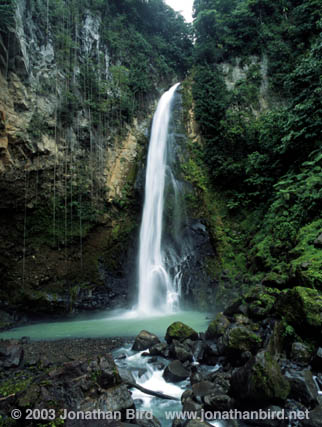 The reward for a long hike: Victoria Falls.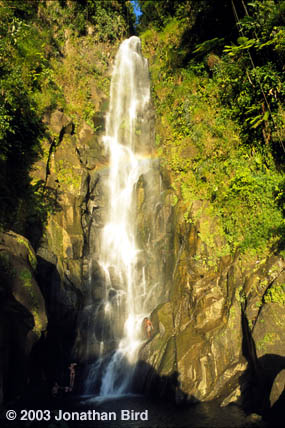 Trafalgar Falls: note size of people!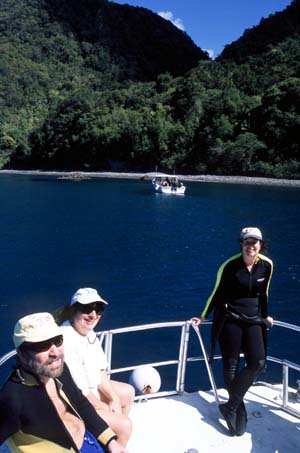 Nothing beats a view like this during a surface interval. In the background is boat #2 with the rest of the group.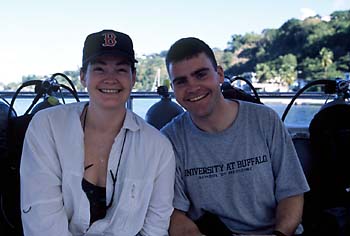 K and Steve pre-dive.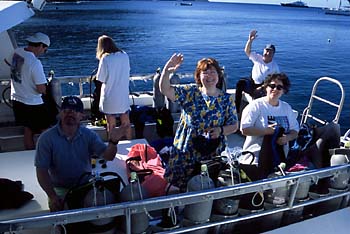 Here's the gang aboard boat #2 getting ready to depart the dock.
More Trip Reports...
Join a Jonathan Bird Dive Adventure....