SWIM WITH WHALE SHARKS IN HOLBOX, MEXICO!
2010 TRIP NOT SCHEDULED YET
Holbox (pronounced "hol-bosh") Mexico is one of the few places I have ever visited that not only lives up to its reputation, but exceeds it. I have seen whale sharks in a lot of places around the world, but I have never ever seen anything like Holbox. (Donsol, Philippines comes close, but still not as impressive).
It's a tiny, white-sand island on the northern coast of the Yucatan. To get there, you take a bus ride about 3 hours north from Cancun, then you take a 30 minute boat ride. There are very few cars on the island--most people drive golf carts. There are also few hotels, since until recently this was basically just a quiet fishing village.
The fishermen have known for many years about the annual gathering of enormous spotted "domino sharks" as they call them, but only in the past few years has anyone else known about it.
You get up in the morning, walk down to the beach, get in the boat, and ride about an hour offshore. When you get to the "shark grounds" you will be able to count more than a dozen sharks around the boat without getting out of your seat! The sharks come up to the surface in the morning when it's calm, to feed on plankton. (Later in the day, when the wind comes up, the sharks dive down deep.) You will also see manta rays, bait balls and all kinds of incredible marine life from the surface! Now it's time to snorkel!
There is no scuba diving done with the sharks. First, they do not allow it. Second, it wouldn't work anyway. In the limited 20-40 foot visibility, you would not be able to see the sharks until they were right on you. Working with a snorkel from the surface allows you to keep getting near each shark as it passes. They do not allow touching the sharks. But the rules have kept the sharks friendly. They do not shy away from people. They do not stop feeding when they see you in the water. They pretty much ignore people. They are quite simply a photographer's dream subject.
Snorkelers get into the water two at a time, and spend about 20 minutes with the sharks, then get out and let the next pair take a turn. We have a maximum of 6 people on each boat so you get a turn frequently. I have negotiated special boat arrangements that will have no more than 6 snorkelers each (other boats have up to 10), and I have also negotiated extended whale shark interaction time (most boats turn back at 11 AM. We turn back at 1 PM, which allows us to stay out longer if the sharks are cooperative--and in my experience, they are).
ITINERARY
Guests will fly to Cancun on July 8, 2009 and stay at a hotel in Cancun (TBA) overnight. The following morning (July 9), we will all meet downstairs and meet the vans to Holbox. You must arrive a day early, stay overnight, and meet the vans. This is done to accomodate all the different flight schedules coming into Cancun from all over the world. We will take the busses to Holbox on the 9th and then interact with the whale sharks July 10-14 (5 days) and return to Cancun for flights home on July 15. We will arrange trips back to Cancun early in the morning, midday and in the afternoon, to accomodate noon(ish), afternoon and night flights out. If you must take an early morning flight out of Cancun, you must arrange it on the 16th and stay overnight in Cancun again. It takes more than 4 hours to get from Holbox to Cancun, so early flights out of Cancun are not possible on the same day as departure from Holbox.
THE PRICE CAN'T BE BEAT
Only $1,499.00 per person double occupancy or $1,899.00 per person single occupancy which includes: transfers from Cancun, 6 nights hotel on Holbox, whale shark trips and breakfast! You will be responsible for airfare to Cancun, one night hotel stay in Cancun and meals (Food is very inexpensive on Holbox and delicious). If you are traveling single, I can probably hook you up with a roommate.
We stay at the finest hotel on Holbox: the Villas Paraiso del Mar. It is right on the beach, has a nice pool, a great restaurant and AC. It is walking distance to town. This is a gorgeous and opulent hotel. You will be impressed.
Read about it on Underwater PhotoChat!
PAYMENT SCHEDULE (Double occ)
| | |
| --- | --- |
| PAYMENT | DUE DATE |
| $300 deposit | |
| $500.00 | |
| $699.00 | |
Read the JBDA Frequently Asked Questions...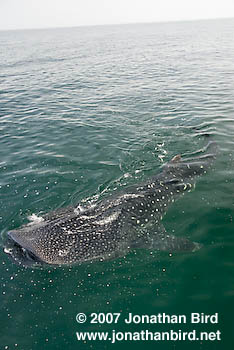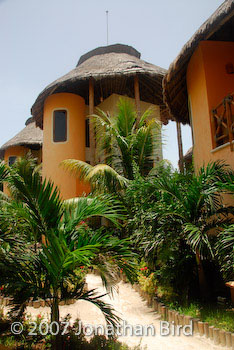 A shot of one of the hotel buildings.
More trips with Jonathan....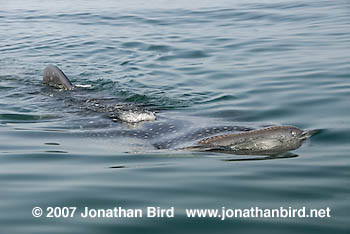 A whale shark feeding at the surface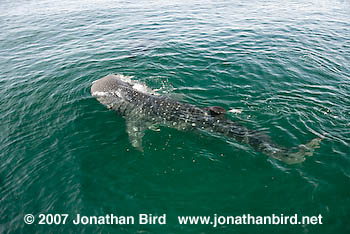 As you can see, the water is a little green with plankton, but this is the reason there are so many whale sharks!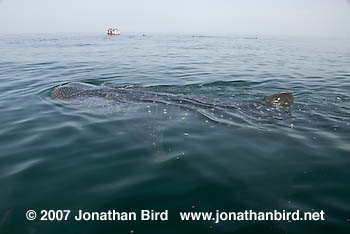 Another boat in the background with other whale sharks.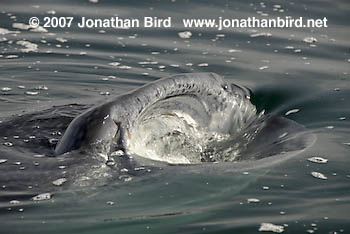 Now that is some serious plankton feeding! Water rushes down the thhroat of a whale shark like a storm drain!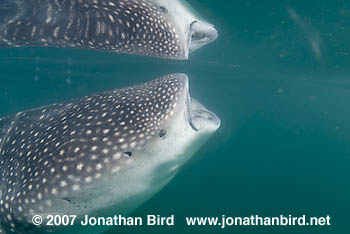 A perfectly flat calm morning results in a mirror-image.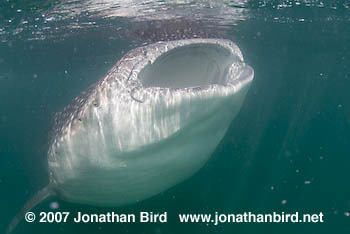 A whale shark gulping water full of plankton.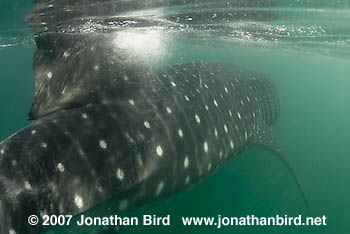 That's why the locals call them "dominos!"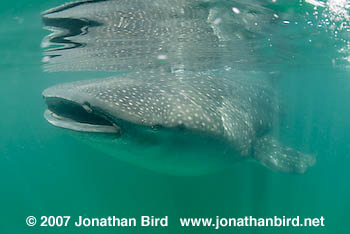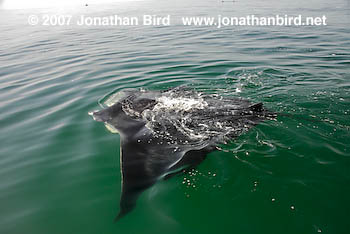 Oh yeah, there are tons of manta rays too!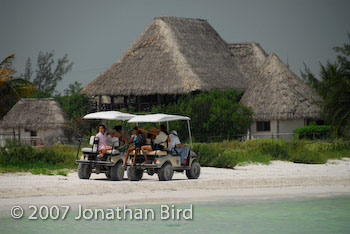 The main mode of transport: golf carts!

The hotel as seen from the water. Cool huh?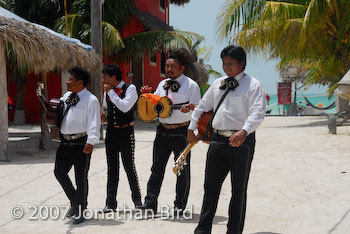 A mariachi band roams downtown.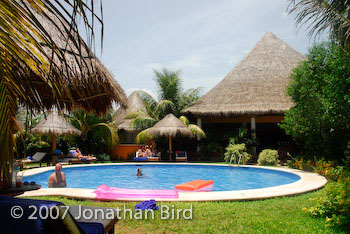 Hotel pool.