DIVE WITH BIG
SHARKS!
TIGERS AND HAMMERHEADS, BAHAMAS!
Due to a winter-related injury, we have a last minute cancellation and an open spot on this trip. Drop me a line. 2/9/16
They are perhaps the most famous residents of the Bahamas! Tiger Sharks and Great Hammerhead sharks! And you can photograph them both on my super awesome 2016 Great Hammerhead/Tiger shark expedition!
This is a special 9 day itinerary trip that I have organized just for shark dives. I am able to provide a good group rate that makes this one of the most cost-effective trips of its type.
Our first stop will be world-famous "Tiger Beach" north of Freeport where we will dive for several days with the Tiger sharks. These large and cooperative sharks are really used to divers now and they are not shy! There are no guarantees in nature, but chances are overwhelmingly good that you will come away with seriously awesome Tiger shark pics! The diving at Tiger Beach is quite shallow (about 20 feet) so you can basically spend all day with the sharks.
Next we will steam south to the new mecca for Great Hammerhead sharks near Bimini where we will spend a few days photographing these awesome, massive beautiful sharks! I have been to both places multiple times and I can tell you that the shark encounters are simply stunning. Ten years ago we would have killed for such incredible, reliable shark encounters with these two rarely-seen species.
The best part is that we board the boat in the USA and make the crossings to and from the Bahamas overnight, so your flights are into West Palm Beach (PBI) Florida. It's an incredibly good deal for such awesome diving!
Dates

Cost

MARCH 21-29, 2016
9 Days/8 nights


$3,399.00 per person
FREQUENTLY ASKED QUESTIONS
What are the accomodations like?
You will spend the entire trip on the Dolphin Dream, an 85 foot live-aboard dive boat, where your gear will be taken care of, your food and drinks are included and you can do unlimited diving all for one price. The boat has 6 double staterooms (each can hold 2 guests) and two heads. The boat is air conditioned and the food is outstanding. Tanks, weights and belts provided. This is a wide-beam boat, a former shrimp trawler, and she is very stable. This might not be the most luxurious liveaboard boat you have ever been on, but it is very seaworthy, cozy and comfortable. Everyone loves this boat. It is also one of the quietest liveaboards I have ever been on. It is very peaceful to sleep at night. This boat is like a second home to me. Love it.
How is the food?
You won't lose weight, I guarantee.
How do we get there?
Here's the good part. The boat leaves from the Riviera Beach City Marina in West Palm Beach, Florida on Monday night (March 21, 2016) and crosses the gulf stream to the Bahamas while we sleep. The next morning, we go through customs without even leaving the boat. Then we head out to the shark grounds and go diving!! At the end of the week, we head back and arrive Tuesday morning (March 29th) in West Palm Beach. This means you buy a cheap ticket to Florida, not an expensive ticket to the Bahamas. But don't forget you still need your passport!
Are there any hidden fees?
No. Your Bahamas entry/exit fees are included in the charter price. Don't forget some cash for a tip for the crew. Did I mention you will need your passport!?
What about the crew and boat?
This is a U.S. Coast Guard approved vessel with two licensed captains on board. Wayne "Scott" Smith is the primary captain. Scott has been leading trips to this part of the Bahamas for 20 years. That's why all the pros go out with Capt. Scott.
Will I get seasick?
If you tend to get seasick you would want to take dramamine for a couple days until you get your "sea legs." The seas can be flat calm or rough, depending on the weather and there is no way to control that. No guarantees on mother nature! I've had success with the "patch" to prevent seasickness during rough seas. The Dolphin Dream is a very stable boat.
I want to go! What do I do?
A $1000.00 deposit holds your reservation. Payment schedule will be announced shortly. This is a popular trip. Book early and don't miss out!
Payment Schedule:
| | |
| --- | --- |
| Deposit (Due on booking) | $1000.00 |
| Payment 2 (6/1/2015) | $1000.00 |
| Final Payment (Jan 1, 2016) | $1399.00 |
PLEASE NOTE!!!!
Please remember that I am merely an underwater photographer that is chartering a boat and leading a photo-expedition. I am not a divemaster, rescue diver, shark wrangler, or part of the crew of the boat in any way. Certified divers can sign up for this trip but you are responsible for your own actions and must understand that any diving is done at your own risk. We have never had a problem with the sharks, but they are still wild animals! If you join this trip you will be required to sign a liability waiver. DAN membership is mandatory!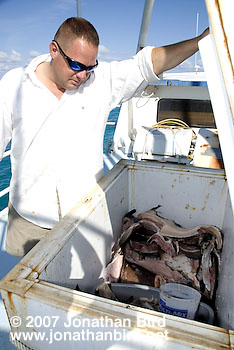 Capt. Andy is busy emptying a freezer by feeding its contents to the sharks! We have four freezers full of fish!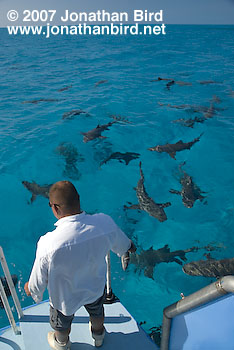 As you can see, we manage to attract a few sharks. These are all Lemon sharks.

Check out the trip report from the 2007 Tiger shark trip on the same boat!
Check out more DIVE ADVENTURES with Jonathan...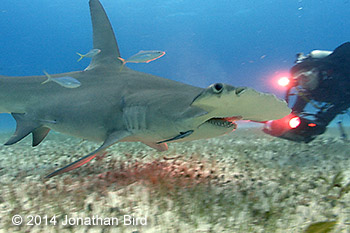 The worldest largest hammerhead species: Great Hammerhead!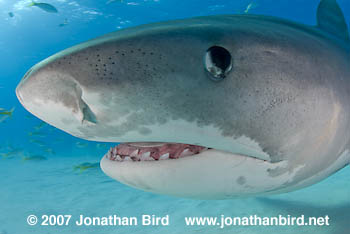 How about some big in-your-face Tiger sharks??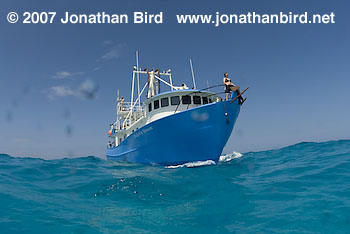 Our vessel, the 85 foot Dolphin Dream. This is one of the most laid-back, comfortable, stable and enjoyable live aboards I have ever been on.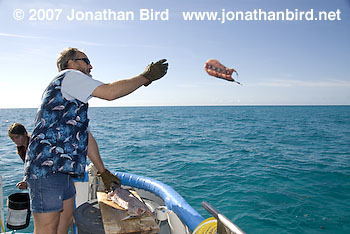 Capt. Scotty is feeding the fishies!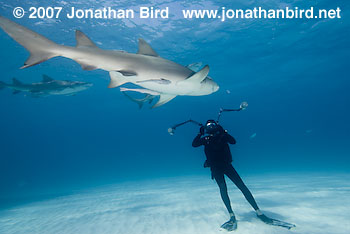 The real pictures are made underwater, as Mark shows!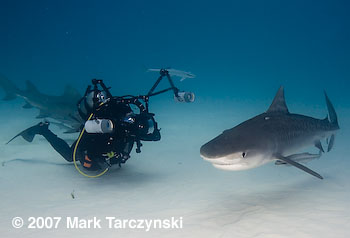 Mark's shot of me with a Tiger!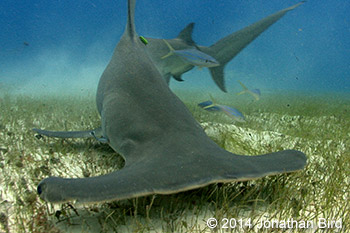 Now that's a hammerhead!! The following images are from my 2014 Great Hammerhead trip.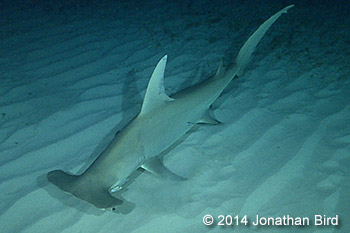 Feel like night diving with the hammerheads and Tigers? No problem!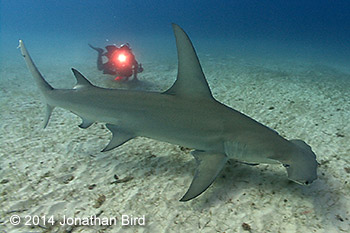 Wait until you see these sharks in person. They are HUGE!