After much anticipation, I arrived in sunny West Palm Beach on Sunday morning ready for another incredible week on the Dream Too. Although the trip last month was good in spite of the uncooperative weather, I was hoping for seven perfect days. Guests trickled in throughout the day and we gathered at the "manatee bar" for slow service. There was no rush--the boat wouldn't leave the dock until 9:00 P.M.
After dinner we got our briefing and settled into a movie ("The Big Blue"--a boat tradition). Capt. Scott gave us the good news: weather was supposed to be good. We pushed off the dock just after nine and made our way East. The Gulf Stream crossing was not exactly smooth (it rarely is) but it wasn't too bad either. We arrived at West End, Grand Bahama in the middle of the night and awoke to a great breakfast that Julie prepared for us while Scott took our passports over to customs.
Scott returned with the paperwork all set and we headed off to the dolphin grounds. We made it out to White Sand Ridge (where the dolphins hang out) by noon. After lunch, we did a dive on the Sugar Wreck (a hundred year old molasses steamer with more fish on it that you can imagine) and saw pretty much every fish in the I.D. guide! Then we headed out to look for dolphins. Within an hour, we found a small pod of dolphins and got in with them for about an hour. I was able to empty both of my Nikonos cameras (one with a 20 mm lens and the other with a 15 mm). The water was extremely clear!! Everyone got close and had excellent encounters but I kept telling the group that it can get a lot better than that. We did another dive on the sugar wreck late that day and I looked for the elusive sponge crab that I've been trying to find for ages. No luck! That evening, we watched the ultimate dive boat movie (South Park: Bigger, Longer, Uncut) and the gang rolled in laughter as we tried to remember the insults. We found ourselves humming the theme song for the rest of the week, and it certainly set an informal tone for the group.
We tucked into an area behind a sand bar for the night and awoke the next morning to head over to Robin's Reef for a morning dive. WOW! What a great dive site full of swim throughs and passageways with miles and miles of healthy coral. It was only 50 feet deep and we could stay down for a long time exploring endless nooks and crannies.
After the dive, we set out to find dolphins. Within a short period of time, Scott and Robin found us a big pod and soon we rushed to the bow to cheer as the dolphins raced in the bow wave and seemed to compete for the best spot. Finally Sarah asked "Anyone want to go in with them?" We scrambled into our gear and lined up on the back deck as Scotty slowed the engines and put them into neutral. At last he leaned out the wheelhouse window and gave us the OK sign. We opened the gate and jumped into the blue. Within seconds the dolphins surrounded us whistling and clicking, moving past quickly only to turn and come back again. The calm surface conditions made the encounter nearly perfect and completely magical.
I soon found myself being circled by two dolphins that moved closer and closer, staring me in the eye and I completely forgot about my camera. I just turned around and around in a circle as the dolphins circled me. I wondered "Will they let me touch them?" Scotty told us that some will let you touch and some won't. If they want you to touch, they will let you. If they don't want you to touch, you haven't got a chance at touching them. It never hurts to try. The worst that happens is they move away. So I reached out my hand. The dolphin closed her eyes and relaxed. I pet her gently along her side and she loved it! What an incredible experience! I couldn't believe I was actually petting a totally wild dolphin! Soon, the other dolphin got jealous and pushed her aside, nudging his way in closer and flipping upside down. I rubbed his tummy for a few minutes and finally they moved on to play with someone else.
The dolphins stayed with us for four hours. Every once in a while they took a break and raced to the bottom to catch a couple of fish, but then they came back as spunky as ever. We got to the point that all the scooter batteries had died. Scott and Sarah got out. We expected the dolphins to leave once the scooter was out of the water, but three of the dolphins stayed. I shot four rolls of film and still had plenty of "interaction" time. It's great to watch people when they run out of film and decide to simply play for a while. Eddd had his 3D cameras with him all morning but when he finally ran out of loaded cameras, he was like a kid free-diving with the dolphins and petting them as they swam by. We can't wait to see Eddd's 3D pictures! Ralph made us all look like amateurs with his far superior free-diving technique and grace in the water. The dolphins played endlessly with him as he held his breath and swam down to the bottom with them. Who needs a scooter? Donna asked me on the first day to try to get a picture of her with the dolphins and I had no problems getting a couple good frames. I hope they come out as well as they looked in the viewfinder.
After we were too waterlogged to stand it anymore, the dolphins finally realized it was time to move on. We dragged ourselves out of the water and spent the better part of an hour just standing around on the back deck reliving the experience. Later, Al and Donna plugged their video cameras into the TV in the salon and we watched the whole thing over again. There is no doubt that this one afternoon was worth it for the whole trip alone. For certain, it's a once in a lifetime experience!
But the fun didn't end there. The crew thought they could wear us out! No way. We did a late afternoon dive at Muriel's Garden where we saw some sharks and Miriam got some good stills on her new digital camera. Alicia found a turtle and Al got some good video. Then we did a night dive on the Sugar Wreck. I spent the entire dive looking for a sponge crab and never found it. I shot nearly my entire roll but left a few frames just in case I found it on the way back to the boat. I got out of the water, rinsed my suit and just as I was getting ready to jump into the shower, Sarah knocked on the bathroom door.
"Jonathan! Ralph found your sponge crab!" I wasn't buying it.
"Yeah, right!" was my answer from the bathroom. Sounded like a classic prank to me.
"No, seriously, it's right under the boat. He's waiting in the water to take you to it!"
Man, I jumped out of the shower so fast that I left a vacuum in the spot where I was standing. I grabbed my camera with only 3 frames left and my tank with 1000 PSI. Forget the suit…takes too long. I rolled in and found Ralph. He pointed and there it sat! The darned thing was sitting right under the bow. I must've swam past that sucker 10 times and didn't see it. I spent a fair amount of time setting up each shot, waiting for just the right time to shoot so I could be sure to get a good one. I finished the roll and hoped I had it. Thanks Ralph!
After the dive, Scott told us that we had a storm front heading in and we needed to cruise back towards West End. Ominous storm clouds appeared on the horizon, so we pulled anchor and headed south. Three hours later we docked at West End for the night. Wow, nice and calm, what a great night's sleep.
Wednesday and Thursday the winds came from the North and we spent our time on the protected (south) side of Grand Bahama. There aren't many dolphins there, but we had plenty of things to do. At "Cousteau's Reef" I spent the entire dive lying on the sand shooting Jawfish as they popped in and out of their burrows feeding on plankton. We did two dives at Bootle Bay where we found three turtles, squid, yellow skates and morays out swimming. Thursday we did two dives at "Bull Pen" where many different dive operators feed the Caribbean Reef Sharks. We didn't even need to feed them to have close photo encounters. Whenever a boat shows up they think they are going to get fed, so they come close. We liked that dive so much that we stayed and did it again…except the second time we actually fed the sharks a little. They came even closer but we kicked up so much sand in the process that the pictures are probably better from the first dive.
Friday the winds calmed and we headed back up towards white sand ridge again. By 11:00 AM we had found a pod of dolphins and the whole group was in the water. The first activity was a game of "bandana". This is a game that Capt. Scott "invented" a few years ago when he noticed that the dolphins sometimes played "keep away" with a piece of seaweed or a sea fan. The dolphins pick something up off the bottom and swim around with it on their heads, flippers or tails, sometimes passing it off to each other, or sometimes trying to steal it from each other. Scotty started playing the game with the dolphins using a brightly colored bandana. He takes the bandana in the water and waves it around until a dolphin steals it from him, then the game begins! The goal is to attempt to steal the bandana back from the dolphins. I have to tell you, this game is pretty much impossible to win unless the dolphins want to let you have it back. Every once in a while you might get close enough that you think you can grab it, but when you reach out, the dolphin just moves away one inch further than you can reach and laughs in your face! It was my lucky day--a dolphin felt sorry for me and came close enough that I could grab it. I grabbed the bandana from his flipper and howled a "yee haw!" into my snorkel, thinking I was pretty darned fast, but really we both knew the dolphin just gave it to me. I swam down to the bottom, let go of the bandana and headed to the surface. Another dolphin swooped in, grabbed the bandana and the game began again. That time it took nearly an hour to get it back. Scotty reports that he has lost a few bandanas over the years doing this. Sometimes they like the bandana so much that they just don't give it back!
By 1:00 everyone was starving, so we took a break for lunch when the dolphins got the mid-day laziness. Within an hour, we were all back in the water again, as Robin had found us another group of dolphins. This group was still pretty tired, so they swam nice and slow and let us get close for pictures. We thought they would soon leave, but instead they slowly woke up and our afternoon adventure just kept getting better. By 4:00 I had gone through 6 or 7 rolls of film and the dolphins were still at it. I told everyone that I hoped to get some shots of the dolphins feeding and we eventually ended up in a shallow area where the water was only about 20 feet deep. The dolphins started feeding in the sand, and the water was shallow enough that I could free dive down and spend enough time to get some shots. Then I decided that since I was putting in requests, wouldn't it be nice if they started mating! Sure enough, a few minutes later, two dolphins started going at it! I got right up close and fired a frame--my last frame of the roll! What a crappy time to run out of film! I hauled butt back to the boat, grabbed the next camera and swam back out. As luck would have it, they were still mating, and I was able to get some shots! Next, I put in a request to capture a birth on film, but they drew the line there. No births this time. Maybe next year.
After 7 hours in the water with the dolphins, the sun was getting low and we were all completely beat. It was time to head back to West Palm. We dragged ourselves out of the water and started cleaning up for dinner. After the ladies voted on a chick flick (Anna and the King) we made our way back to West Palm overnight. It was a choppy but typical crossing. Overall, this was one of the best trips of the year so far according to the crew, and for sure, we certainly had no complaints (except that we didn't get to see a dolphin give birth of course….) Now if we can just convince Eddd to give us a slide show….
Check out Ralph's Trip Report....
The next trip will be announced for 2005...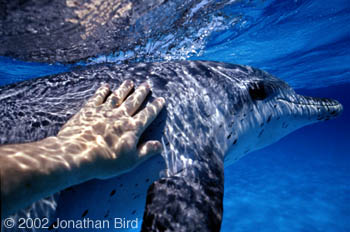 How close can you get? This is a self-portrait--shooting with my right hand and petting with the left! This is a wild dolphin! Can you believe this?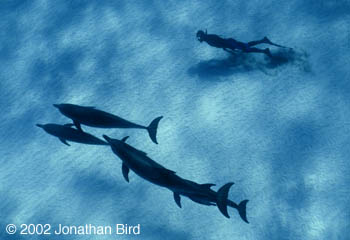 Ralph the master free-diver gets down on the bottom with the dolphins!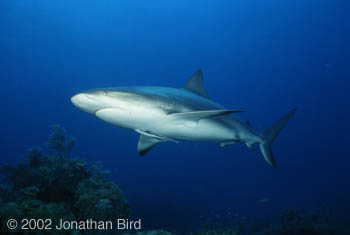 At the "Bull Pen" a Caribbean Reef shark swims by looking for some food. Even without treats we could get great shots like this.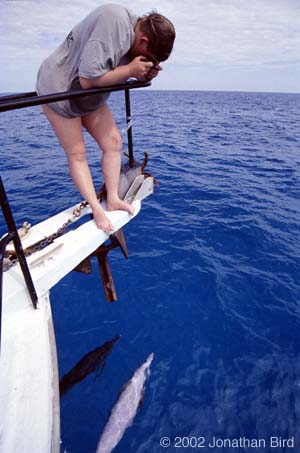 Gayle gets some topside pics from the bow as the dolphins ride the bow wave.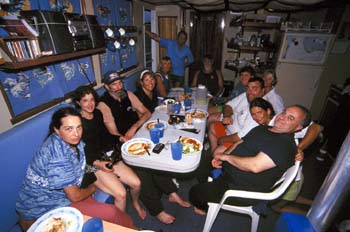 The May 2002 gang and crew chowing down. (From left, Alicia, Miriam, Ralph, Donna, Marlene, Captain Scott, Eddd, Gayle, Julie, Jim, Sarah and Al.)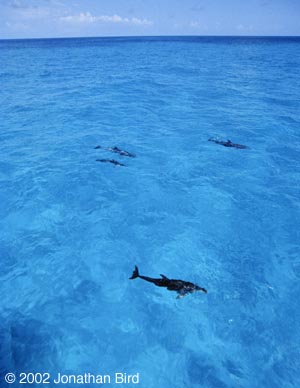 Dolphins rushing to the bow for a free ride!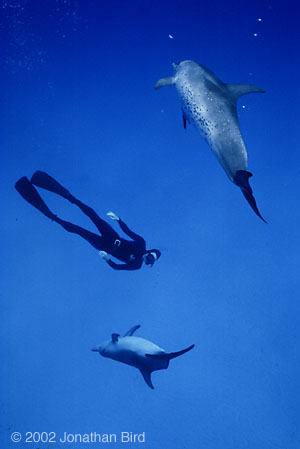 Ralph gets into the zero gravity thing!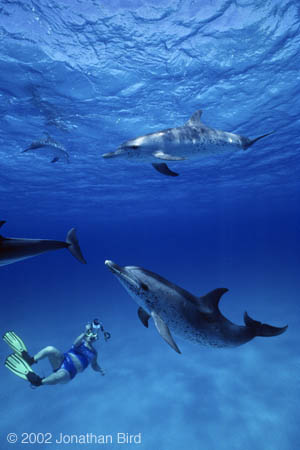 Donna is getting some great video on that new camera!
Check out some pictures of the Bandana Game!