Trip Report:
Galapagos October 2003
I have just begun a new film project that calls for a lot of shots of whale sharks and hammerheads, so I used my time in the Galapagos this year to shoot video exclusively. Except for one night dive at Wolf Island, I didn't use a still camera for the whole trip. Therefore, all the images in this report are from guests on the trip! Thank you to all of you who stepped up to the plate with great pictures for enjoyment by all!
This was the first year that I attempted to lead two back-to-back groups in the Galapagos. I met the first group in Guayaquil, escorted them to Baltra, then at the end of the trip, I saw them off at Baltra and met the second group arriving. Finally at the end of the second trip I headed back with the second group to Guayaquil.
The first group arrived mostly without incident in Guayaquil except for Mark who managed to miss his flight from LA. To protect him from terrible embarassment, I am not going to say how he missed the flight. Nonetheless, in this case, the built-in extra day in Guayaquil of my itinerary saved the day. He arrived a day late, but in plenty of time to make the boat. Fortunately his luggage arrived on time as well.
We made our way to Baltra and met the crew as well as 4 more of the group that had flown in to the Galapagos a few days early for some land tours. I met up with my friend Nelson who was one of the divemasters on my 2001 trip but I didn't see him in 2002. It was great to have him aboard for both trips. We got on board and headed straight to Wolf Island the first night, a trip that takes about 15 hours. The seas were flat calm.
We arrived at Wolf and did several dives the next day. The water was a tad warm (79-80 degrees) and clear. In spite of the high water temps (normal for this time of year is 75 degrees) there were tons of hammerheads, and they came very close, even to the open circuit divers (which was everyone except me due to a snafu with David's Inspiration Rebreather).
I got a complete surprise when the crew announced that we were going to do a night dive at Wolf in a protected cove that has no current. I had told everyone that there is no night diving in the northern Galapagos because of currents but this is a newly discovered site that has hundreds of red-lipped batfish at about 90 feet out on the sand. WOW! And there I was with no video lights or anything, completely unprepared for a night dive. Oh well, next year.
The next day we headed to Darwin for three days of shark action. Again we found massive schools of hammerheads. In 2002, we had many whale sharks, but the hammerheads for some reason stayed way out at the limit of visibility. Not so this year….tons of hammerheads everywhere. My goal was to film them being cleaned by the King Angelfish--not an easy task because they are very shy when they are being cleaned. Even with the rebreather, I couldn't seem to get close enough to get good shots. By the end of the first week I had only gotten one really good close shot, and I ran out of videotape right in the middle of the shot. Talk about a heart-breaker! In any case, there were hundreds of hammerheads. We saw our first whale shark later in the day. Then we caught another glimpse of what was almost certainly the same shark later in the dive. All but three people were in the water and got to swim with the whale shark. (Never skip a dive at Darwin!!) Unfortunately, that ended up being our last whale shark encounter of the trip. Not sure why….currents were very slack perhaps, water temps too high maybe, or just bad timing. It just goes to show that nature is unpredictable. This very same week in 2002 we had 24 whale shark encounters in 3 days at Darwin Island. I was glad that everyone got to see a whale shark up close and fortunately everyone realized how incredibly lucky we were with the hammerheads. We also had many outstanding encounters with dolphins underwater. Throughout our stay in the north, we had large pods of dolphins hanging around the boat and the zodiacs, buzzing by us in the water, and several close swim-bys where the dolphins would stop to look at us. This is not to mention the omni-present sea turtles, eagle rays, morays, etc.
We headed back down to Wolf on the way home for some more dives including a daytime dive with the batfish and of course more hammerheads and lots of sea turtles and eagle rays! Finally it was time to head back down to the south. A long 15 hour crossing in rough weather is no fun, and thankfully it was not bad at all, though a bit choppier than the way up.
I had arranged a land tour of North Seymour Island, one of the better land hikes, but a bit off the beaten Aggressor path. Doing this land hike meant skipping the Darwin Research Station and dinner in Puerto Ayora, but it was worth it for the Blue footed boobies, sea lions, marine iguanas and frigate birds showing their red throats inflated!
Next we hit Cousins Rock for two dives. This southern site usually has COLD water around 65 degrees, so I told everyone to suit up as warm as they could. We all rolled off the zodiac into balmy 75 degree water. I lost all my credibility. I swear, it was cold last year! The water temps were just acting strange. The crew said that only 3 weeks earlier, the water was barely 60 degrees at Cousin's Rock but the currents had shifted, bringing warm water to all the islands. No matter, we found seahorses, a marbled ray, a turtle, a massive school of barracuda and playful sea lions. Our second dive was a sea lion dive where nobody got deeper than about 30 feet but we played with half a dozen juvenile sea lions for an hour as they barked, zoomed around us and played in our bubbles.
At last it was time for the first group to depart. We went to the airport and hung around for a few hours because the flights were late. At last they boarded the plane and made their way back to Guayaquil, while I stayed in Baltra and met the second group. They had been met in Guayaquil by my friend Gator who had never been to the Galapagos before but had been thoroughly briefed on the important things to know like how to get excess baggage on the plane cleaply, and things to do in Guayaquil.
Many NEADC members were on the second trip, all of which had been on trips with me before. The first thing they asked was "How many whale sharks did you see last week?" and I was sorry to have to tell them that we only had two sightings. That didn't seem to dampen their enthusiasm though. "This is a lucky week….we'll see lots of whale sharks!" They proclaimed. I hoped so!
Things did not start smoothly though. The airplane delay had forced TAME airlines to use one of their 727s on a route that is now serviced by A320s and the food for the Aggressors did not show up on the plane. This was a problem. We could not immediately leave for the north. I had a meeting with the captain and discussed options (with Nelson translating for me since my Spanish is not very good). We decided to do a land hike at North Seymour and then a couple of dives there on the first day while we waited for food. This actually worked out well because I was not planning on being able to get a North Seymour hike for the second group. The special plans I made for the first week could not be repeated because the crew members needed to get ashore at the end of the second week and I could not change the itinerary and keep us out of Puerto Ayora. The dives at North Seymour were very exciting. The water down south was still warm (in the mid 70's) but the first dive had a ripping current. We had to hold on for dear life, but there was a huge school of dozens of white-tip reef sharks "surfing" in the current. They allowed us very close in the turbid water. I have never seen so many. On the second dive, the current was much less. I had wanted to film "sleeping" sharks on the bottom and we found some. Using the rebreather I was able to get very close. At one point, Gator and I were filming a white tip resting in a small overhang. I was shooting from one side and he was shooting from the other side. Then a sea lion swam down, poked his head into the cave and started barking at the shark. The shark, annoyed, got up and started swimming away, so the sea lion pulled its tail and generally used it as a toy. The sea lion got a kick out of this and continued to follow and harass the shark for another 5 minutes. So much for the killer shark image, being pushed around by a sea lion!
At last we got our food delivered and made our way to Wolf. A smooth crossing. The next day we did 4 dives, including a dive with the batfish that night. The water temps were still high but the hammerheads were still numerous and approachable, a delight to the group. Nonetheless, there was still one big thing on everyone's mind….the whale shark. Nobody could stop talking about it. Would we see one?
The next day we arrived at Darwin. Instead of three days at Darwin, we would only get two and a half days, so we had 10 dives to find some whale sharks. Wouldn't you know it, on the first dive we had 4 sightings (of the same shark that kept cruising back and forth up and down the dive site). The excitement level after the first dive was about as high as it can get and I was relieved that everyone saw the shark, just in case it turned out to be the only one of the week.
I am fortunate to have such good friends. When I was sideswiped by a whale shark tail, the only question they could muster afterwards was "Did anyone get that on video?" Here's what happened: while swimming to the open-water side of the shark to attempt to get it to turn towards the reef (and the group) I didn't realize it would work so well. The shark turned on a dime. One minute I was swimming alongside the head and the next minute a 12 foot high tail fin was coming at me at a high rate of speed. I couldn't get out of the way so I braced for impact. The forward edge of the lower lobe of the tail clocked me hard in the head, ripping my mask off. I managed to grab the mask before I lost it, and got it back on and cleared. (With one hand I might add, because I was shooting video with the other!) The whole time my video camera was running and Gator got the whole thing on video too. At least I had one person concerned: Bruno said "I don't like that!"
We ended up having 9 whale shark encounters. This is still a low number for Darwin in peak season, but it was a heck of a lot better than none, and the group got some excellent shots and video of the whale sharks. Meanwhile, Gator and I were very busy trying to film that hammerhead cleaning. After spending 9 dives at Darwin working the cleaning stations, we finally nailed it on the 10th dive where I got a couple of excellent close sequences as well as having a nice whale shark encounter to close off the final dive at Darwin. Apparently, due to the warm water, the whale sharks were staying deep. While we had encounters last year as shallow as 15 feet, this year the shallowest one was 60 feet. Some of us ended up at about 130 feet on one encounter (it's easy to lose track of the depth when you are swimming with a whale shark).
We headed back down to the south (another nice crossing) and did a dive at Cousins Rock. By this time, I assumed that the water was going to be warm so I didn't warn anyone that it could be cold. Problem was, the unseasonably warm water had vanished and the water temps were back down to the mid 60s! I had decided to skip the last dive to clean my gear and off-gas (two weeks worth of salt and crud not to mention nitrogen) and everyone froze their collective butts off. First thing they said: "Why didn't you tell us it was going to be so cold!?" Man, I just couldn't win this year with dive advice!
We spent a night in Puerto Ayora where most of the group went to a nice sit-down restaurant but a couple of us decided to try local pizza. We did some shopping for t-shirts too.
Back in Guayaquil, we had one last adventure when we decided to go out to the Eclipse Café (my new favorite "local" restaurant in Guayaquil). First, Steve tripped a waiter who dowsed me with a drink so I smelled like an alcoholic for the rest of the night, and then Chuck invited himself over to dinner with a couple of locals. That Chuck is a real party animal!! I tried to start a food fight but had to surrender when Jim prepared to toss an entire dish of noodles at me. I'm just glad Steve was in the way.
The usual airport hassles followed and here I am sitting on the plane writing this on the way home. If I could summarize this year's Galapagos Adventures, I would have to say it was the "year of the hammerhead." We didn't see as many whale sharks as last year, but we saw them and I still have a 100% whale shark sighting record! I'm hoping next year will have lots of hammerheads and whale sharks, but then again, you can never predict mother nature. One thing is for sure, no matter what, The Galapagos are incredible and no matter what you see, there is a lot of it and guaranteed to blow your booties off!
Closing advice: always pay close attention to the tail end of a whale shark!
I would like to thank all my friends who joined the trips this year, coming from as far away as the Netherlands. I had a great time hanging out with all of you and I hope to dive with you again soon!
-Jonathan Bird


The incredible majesty of Wolf Island!
All of the pictures here are from guests on the trip, not me! Check out their awesome pictures!
Check out Al's pictures from the first week.
Check out Jonathan gets "whaled" by a whale shark!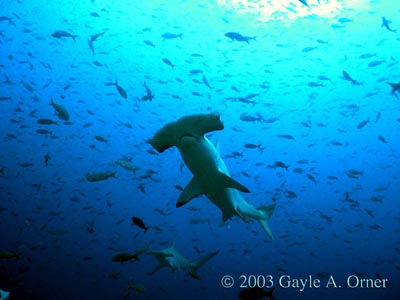 I'll bet you can guess what this is!!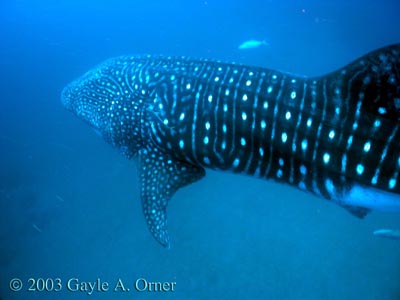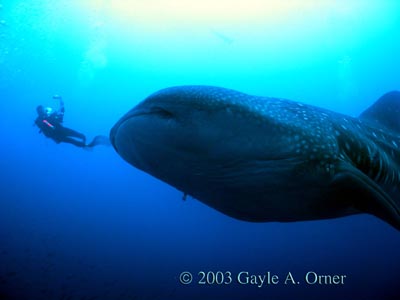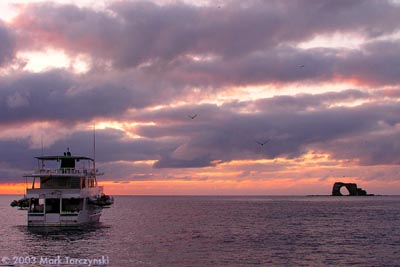 The famous arch at Darwin Island!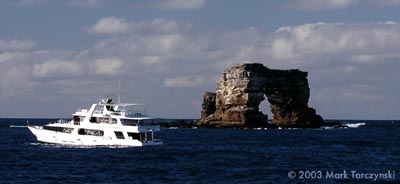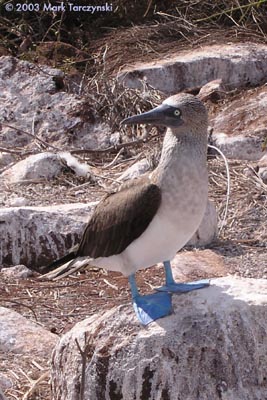 Blue-footed booby at North Seymour Island.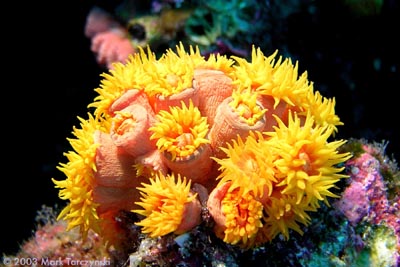 Orange Cup Coral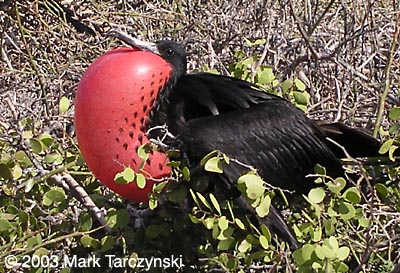 The male frigate bird shows his attractive throat to the ladies. (Hey babe, check me out...)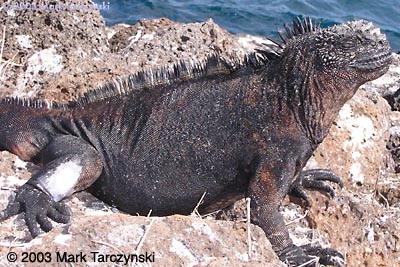 A marine iguana warms up between swims.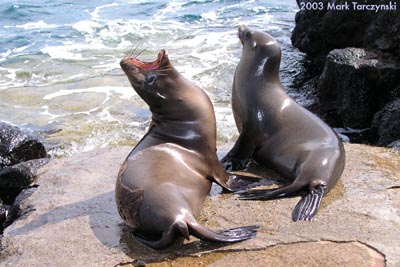 Young sea lions playing in the surf.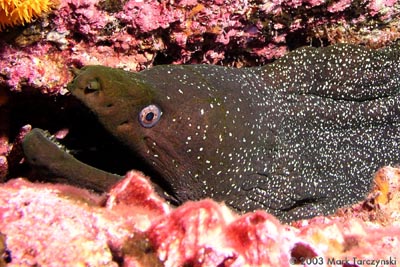 Fine Spotted Moray in the rocks at Wolf Island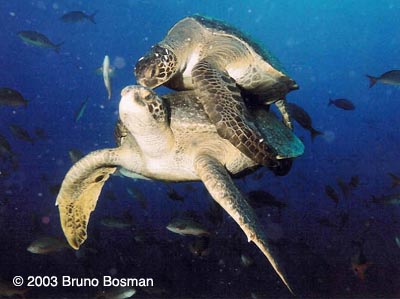 A pair of turtles "gettin' it on" at Darwin Island.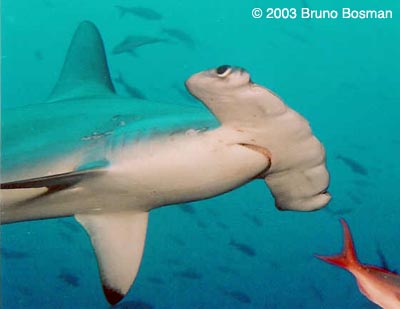 Getting up close and personal with a hammerhead. Bruno got this close on open circuit scuba.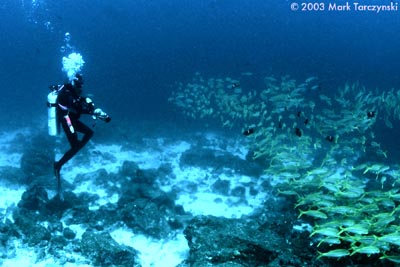 Tomo is stalking the fish, but I think they're on to her.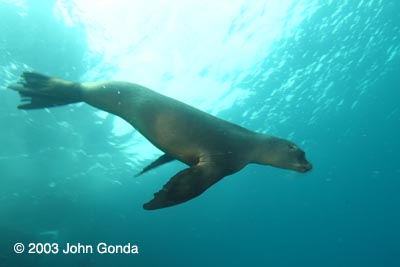 A sea lion playing.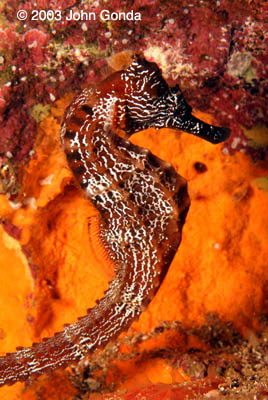 A sea horse at Cousins Rock.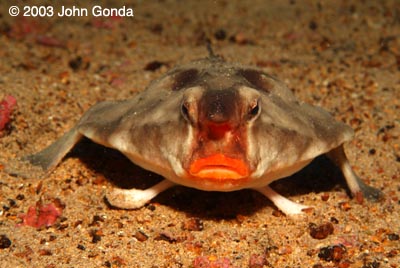 The famous Red-lipped batfish at Wolf Island!