Trip Report:
Galapagos October 2002
Our intrepid group of excited divers flew in from around the world and met up at the beautiful Unipark Hotel in Guayaquil, Ecuador. The Unipark is right in downtown Guayaquil and you can walk to the waterfront. They have recently renovated the waterfront area, called the Malecon, with nice gardens and a few restaurants. We had lunch down on the waterfront and then walked over to the artesian's market for some deals on Ecuadorian sweaters and other clothing. I bought a beautiful leather jacket for $42. Talk about deals!
The next day we boarded a TAME 727 (after some haggling over the cost of our excess luggage) and flew to the Galapagos. Ninety minutes after take off, we landed on the dry desert island of Baltra. The landscape contained mostly cactus trees, scrubby bushes and sand. We were met by the Aggressor Fleet staff. We boarded a bus and they drove us to the Galapagos Aggressor I, our home for the week. The dock where we boarded the boat was alive with sea lions playing in the water and lounging on the beach. Welcome to the Galapagos where the marine life is friendly and has no fear of humans.
The Aggressor staff took care of getting our gear to the boat while we went inside and had a drink and some lunch. Then we did a quick checkout dive nearby. For many people who had new suits or rebreathers, the checkout dive was helpful to get weights adjusted before we would be diving in a current. The dive itself was pretty boring except for a sea lion that buzzed the group a few times. The water was a chilly 68 F.
By 4:00 we were pulling anchor to head north. It would take over 12 hours to get to Wolf Island. We spent the evening unpacking and getting our cameras ready for the excitement to come. The next morning we awoke to the towering cliffs of Wolf Island around the boat. After a dive briefing, we piled into the Zodiacs and headed out. We did three dives at Wolf, seeing tons of morays, vast schools of fish, sea turtles, Galapagos sharks and schools of hammerheads. The water was a much more comfortable 78 F. Although they sometimes see whale sharks at Wolf, Darwin is much better for them. That night, we went to bed with anticipation of diving world-famous Darwin Island the next day. At 4:00 AM, the captain fired up the engines and pulled the anchor. By 7:00 AM we were ready to dive at Darwin!
Except for me, nobody on the trip had ever seen a whale shark, so there was some pretty heavy pressure on the crew! We rolled off the Zodiacs into warm, clear blue water and headed down to the wall. Before we even had much chance to look around, we heard the excited clanking sound of Paula the divemaster signaling the approach of a whale shark. We all rushed out into the blue from the wall and met the gigantic fish head-on. Only 20 minutes into the first dive we had a huge whale shark that stayed with us for about 10 minutes! Everyone showed remarkable restraint and didn't touch the shark, so it tolerated us for a while. I have to tell you though, the urge to touch the shark is pretty hard to suppress! On the second dive we didn't see any whale sharks, but we did see hammerheads and a huge school of dolphins that buzzed the group. Since there was very little current, the hammerheads weren't coming in close to the reef to be cleaned. They kept their distance, frustrating the photographers. Some of our group decided to skip the third dive and take a nap. Big mistake! We had 10 (yes, I'm serious!) whale shark encounters with 2 or 3 different sharks on that one dive! There wasn't a period of more than 5 minutes on the dive without a whale shark. Talk about awesome! (Here is a cool video clip. It's 3.9 MB and requires a Quicktime viewer.) Everyone came out of the water totally psyched…but spoiled! We "only" had 5 encounters on the fourth dive, but all the people who skipped the 3rd dive got to see them! That night we watched each other's video and looked at the digital camera pictures. No doubt about it, those who came to see whale sharks were not disappointed. We still had 2 or 3 more days at Darwin depending on what the group wanted to do.
How do you top a day like that? Well, you can't--but you can certainly try! The next day we awoke to find the other Aggressor boat present. No longer having the island to ourselves, we nonetheless geared up for another day of diving the big animal capital. Again, with very little current the hammerheads weren't going up to the reef, but the fish schools were busy feeding and spawning and there were sea turtles everywhere, providing ample entertainment while we waited for Mr. Big. Unfortunately, we ran out of time before he showed up. On the second dive, the most memorable moment for me was right at the end of the dive. We were doing a 15 foot safety stop and I signaled to Christine that we were all set and we should surface. She signaled back that she wanted one more minute to be safe. Less than thirty seconds later, a whale shark came out of the blue heading straight for us!! We chased it for a while, and I got some pictures of Christine swimming beside it. We followed it down to about 50 feet. Then we had to start our safety stop all over again! Who says safety stops are boring??
On the third day at Darwin, the current came back. We all spent the dives holding on to the rocks and flapping in the current like flags, but nobody complained because we kept seeing whale shark after whale shark. In total, we had 25 encounters with whale sharks in three days at Darwin. We only had two dives without them. We also got some nice big groups of hammerheads once the current came back, although they still didn't come as close as last year. (Last year, everyone on the trip had rebreathers.) We had some short but close encounters with common dolphins and Galapagos sharks too.
We had the option of spending another day at Darwin, or going south to try some other dive sites and do some land hikes. Since we had been so successful with the whale sharks, we decided to go south. That night, we cruised for 15 hours back down to the southern part of the archipelago. We woke up the next morning at Cousin's Rock, right near Bartolome Island. We did two dives on Cousin's rock. Man, they were COLD dives! The water was only 62-65 degrees depending on depth. But we saw several seahorses, a mobula ray, a huge school of barracuda, a couple turtles, Eagle rays and a group of playful sea lions that entertained us until we couldn't stand the cold anymore! Later that afternoon we did a land hike to reach a scenic lookout where we got a beautiful view of the islands. After that, we snorkeled with penguins and sea lions for an hour at dusk. Penguins might not be able to fly, but they sure can swim. What a day! The water was cool, but we got to have so much fun with the animals that nobody noticed. Okay, well they noticed...but they didn't mind.
The next morning after breakfast we did a land hike on South Plaza Island where we saw all kinds of sea lion activity, including bulls guarding their harems and females nursing their pups. We also got up close and personal with marine iguanas and land iguanas sunning themselves on the rocks. Finally, we did our last dive of the trip (number 18) at Gordon Rocks. While Gordon Rocks is quite stunning above water, I found the dive a bit boring. Some other people in the group saw a squad of eagle rays, but I saw mostly just sea stars and pencil urchins.
That afternoon we spent a few hours at the Charles Darwin Research station on Santa Cruz where we got to photograph giant land tortoises up close and we saw "Lonesome George." Then we went out to a local restaurant for dinner. The next morning we headed off to the airport for the trip back to Guayaquil.
We all agreed that the week was pretty hard to beat. We had an absolutely fantastic group--not only excellent divers but wonderful people. Many friendships were forged that I hope will continue. We had tons of awesome whale shark encounters. Since everyone came especially to see whale sharks, nobody was disappointed! As a bonus, we also saw Scalloped Hammerheads, sea turtles, sea lions, penguins, eagle rays, Galapagos sharks, and dolphins. And that's just the big stuff! I wonder if we can top it in 2003? Sounds like a challenge I'm ready to undertake!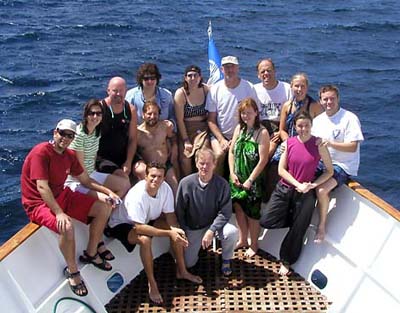 Our 2002 Galapagos Group: Victor, Carol, Wayne, Brenda, Brandy, Bill, Al, Julia, Jonathan, Christine, Becky, Chuck, Carl and Chase. This page will hopefully have a bunch of pictures not just by Jonathan but from the entire group. Keep checking back!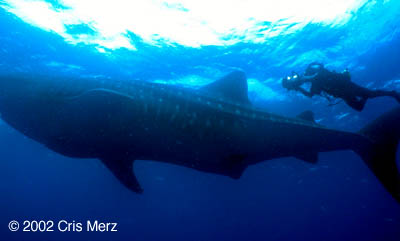 Jonathan demonstrating the superior performance of Force Fins.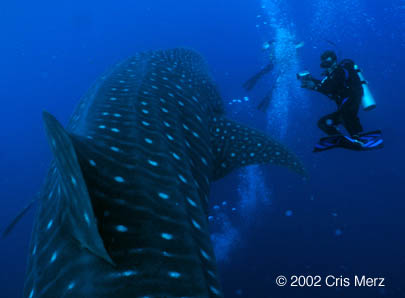 Chase contemplates the biggest fish on Earth!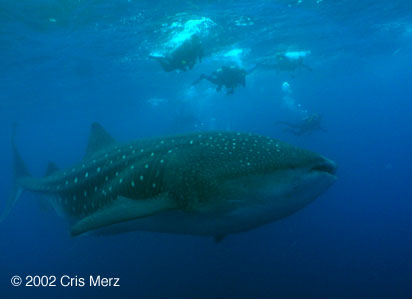 The group hanging with Mr. Big. Check out a video clip. The clip is 2 minutes long, 3.9 MB file size and requires a Quicktime viewer.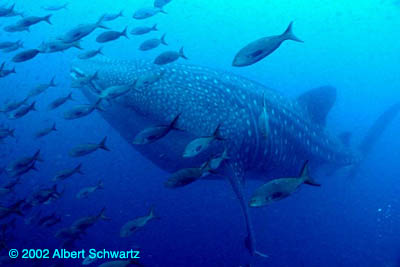 Al captured this magnificent shot with his Olympus digital camera. Check out more of Al's pictures from the trip.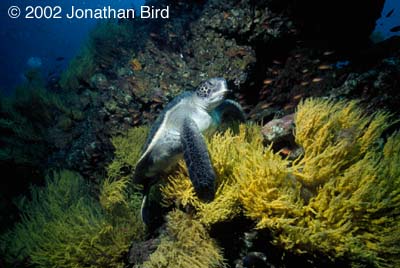 A Green Turtle resting in the soft coral at Cousin's Rock.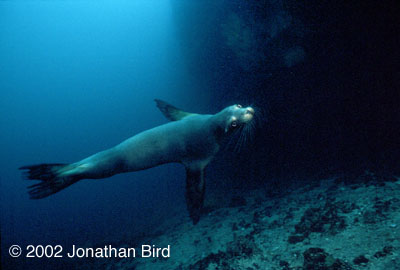 A playful Galapagos Sea Lion that played with us at Cousin's Rock. Talk about a fun time!!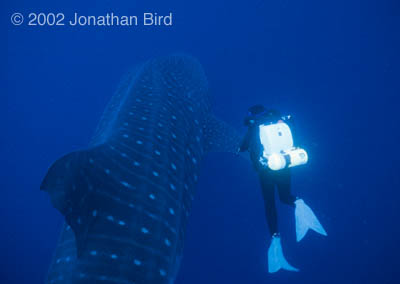 Yes, we probably have too many whale shark pics on this trip report, but hey, we had so many of them that we have a lot of shots!! This is Christine following Senor Grande.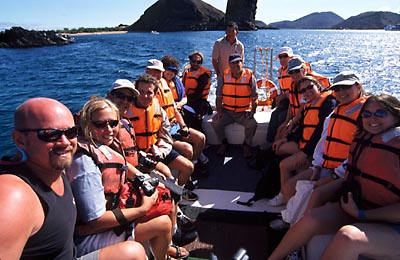 The group going ashore in Galapagos fashionwear. (L->R Wayne, Julia, Victor, Chase, Bill, Brenda, Carl, Al, Chuck, Becky, Christine, Carol, Brandy). Sorry Brandy and Wayne for the wide angle lens distortion on your heads!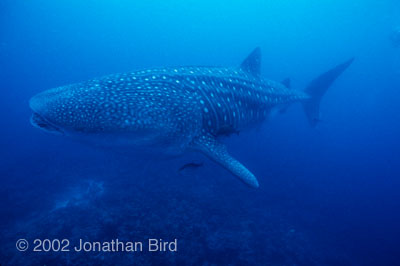 One of my favorite shots from Darwin Island.
MORE PICTURES from the trip.